How To Improve Your Relationship With Your Child This Summer, Even If You Think You Don't Have The Time
June is here, and that means summer vacation is right around the corner for our kids.
Some of you might have read that opening sentence and then panicked because you don't feel ready for summer break yet. Maybe this means added stress for you that includes planning summer childcare, organizing activities for your kids so that you don't hear the dreaded "I'm bored" from your child over and over again or the pressure of paying for an expensive family vacation.
I totally understand — as a single mom to two teenagers, my heart used to skip a beat when June rolled around and I didn't feel ready for the added responsibilities that summer break always thrust upon me, but then I changed my mindset about summer.
Instead of getting annoyed by my kids' summer vacation, I decided to purposefully change my mindset to view this time of the year as my opportunity to bond with each of my kids. And I'm not talking about taking a week-long vacation from work in order to take my kids on an expensive vacation and call it done, but a three-month long excuse to indulge in each of my kids' uniqueness and awesomeness every day.
I know you might be thinking that this seems difficult — especially given the constant life stressors that we cannot put on hold for the summer, like career responsibilities and worrying about paying bills — so let me give you some ideas that you can build into your day to encourage daily bonding with your child this summer.
1. Start a family reading club.
Choose a book — either one from your childhood that you want to share with your kids or a current book from your child's generation. Read a chapter or two each day and then discuss it with each other over desert each night.
2. Learn and practice an unknown or weird sport.
Always wanted to try disc golf, unicycle polo or underwater hockey? Designate a consistent hour each day — either first thing in the morning or at a specific time in the evening — to practice your new sport together. For a list of other weird sports to try, click HERE.
3. Discover a new genre of film to watch together.
Have your kids ever seen any classic silent films? What about old westerns with John Wayne? Watch one film a week this summer from your chosen genre and then discuss what you liked or didn't like over ice cream sundaes. Click HERE for a list of the top 100 films of all time.
4. Start a big family project.
Do you have a talent for building things that you would like to pass on to your kids? Think Fido needs a two story Victorian dog house for the backyard? Start a project like this one and work on it for an hour a day with your child.
5. Learn all about one of your child's interests.
Bond with your child by letting them teach you all about their interest. For example, if your child is really into music, spend some time together each day getting to know all about Taylor Swift, One Direction and Lana Del Rey (at least that is the music that's popular in my house right now). Even if you don't like your child's taste in music, you are teaching your child how to be open-minded and tolerant by trying out their music.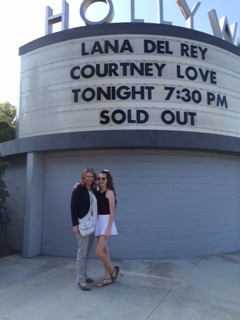 My Daughter & I At A Lana del Rey Concert a few Weeks Ago
6. Create a live show and then perform it for family and friends.
Create a live family performance of some kind — a play, concert, magic show or movie — and then invite your family and friends over for a dinner and show.
7. Clean out the clutter and have a yard sale.
It's a win-win situation: You love an organized house and your kids love making a little money. Spend the summer cleaning out every room in the house from the garage to the home office and give your kids a percentage of the proceeds as an incentive to help.
It really doesn't matter what kind of activity you end up doing with your kids this summer, as long as it is something you consistently do with your them each day. It doesn't have to be a complicated activity or an expensive one, but one that encourages warmth and connection between you and your kids.
Try not to let other life stressors interfere with this special bonding time this summer. Give yourself permission to take a break from worrying about those stressors during this focused time you are with your kids. You will always have time to worry about those stressors after you are done spending time with your kids.
Be purposeful in your intention to make this a summer a time that both you and your kids will remember forever.
So what summer activity are you excited to take on with your kids this summer?
Are You Using The 3 Important Elements That All Successful Modern Parent Use Religiously?
To Find Out, Download The Free Guide ==>
The Modern Parenting Blueprint: The 3 Elements That All Successful Modern Parents Use Religiously